Crystal Coffin – the Virtual China Pavilion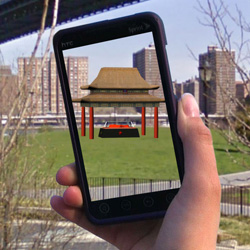 The augmentation is inspired by the crystal coffin displayed in Mausoleum of Mao Zedong on Tiananmen Square, Beijing since 1977, a year after Mao's death. In the twenty first century, while China has been transforming itself into a modern society in many ways, and gaining more influences economically and politically around the globe, Mao's crystal coffin, the immortal-looking shell, remains exist as a symbol of authoritarian ruling system. Since spring 2011, a crackdown on dissent – including detaining many intellectuals and members of religious group – followed by distinct signs of revival of Maoist policies, has left people baffled about the future direction of China..
About The Artists
As a new media artist collective, Lily & Honglei (Xiying Yang, Honglei Li) work in both New York and Beijing China. Their projects utilize traditional painting techniques and digital imaging technologies including animation, virtual reality, and augmented reality on mobile phones, which construct an in-between space reflecting Chinese cultural heritages and current social issues in the context of globalization. Lily & Honglei both studied fine arts in China and continued their education in art in the States. Lily Xiying Yang received a Master of Fine Arts degree in Digital Media from College of Visual and Performing Arts at University of Massachusetts, while Honglei Li earned his MFA degree in Painting from the University of Massachusetts, Dartmouth.
Lily & Honglei have exhibited art projects internationally, with solo exhibitions in Germany, China, Australia and United States. As members of Manifest.AR, they have participated in a series of augmented reality art exhibitions including Bushwick Augmented Reality Intervention at Nurture Art Gallery in New York, Gradually Melt the Sky at Devotion Gallery in Brooklyn New York, Boston CyberArt Festival at Institute of Contemporary Art in Massachusetts, among others.
Artists' Website : Lily & Honglei – New Media Art from China
Other (Un)seen Sculptures By This Artist