Layers of Destruction & Support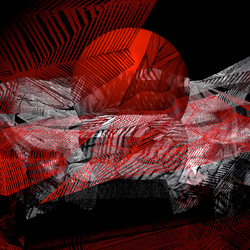 A response to the natural disaster and nuclear crisis in Japan. In memory to the thousands who died and also a reflection on the global support shown to Japan for those that survived. A hovering red sphere is embraced by 3 radiating surfaces. The texture is a response to the images of splintered houses, buildings & lives in the wake of the quake, tsunami & radiation crisis.
Please consider donating to the Australian Red Cross to help those effected.
About The Artist
Richard Byers is a former Sydney resident with 12 years working as an industrial designer, now a new media artist, currently residing in Berlin.
Artist's Website : http://richardbyers.tk/