Portuguese Legendary Cocks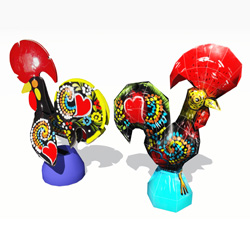 This work is related to the legend of the Rooster from Barcelos (a small city east of Braga, Portugal):
A long time ago, a Spanish Galician Pilgrim that was passing through a Portuguese town, was accused of committing a serious crime (possibly theft, perhaps murder). Protesting his innocence when facing execution, he demanded to see the magistrate who had pronounced his sentence. His request was granted and the Galician was taken to the house of the magistrate who was getting ready to dinner. Pointing to a roast chicken on the magistrate table, he shouted: "As sure as I am innocent that rooster will crow if I am hanged!"
Later, by the time the man was to be hanged, at the magistrate house, everyone was amazed as the roasted rooster transformed and began to crow. The Galician was saved just in time, and released.
Today, the "Galo (rooster) de Barcelos" has become one of the most instantly recognized cultural symbols of the Portuguese Diaspora becoming a national emblem of Portugal. No Portuguese home is without at least one somewhere: embroidered on a tablecloth, tattooed on a kid's back, painted on ceramic…
So in this refreshed version, a tribute, we introduce "Galo de Barcelos" into a virtual experience, allowing it to crow everywhere all over the world.
This work was developed in the scope of our PhD research at the I2ADS (Instituto de Investigação de Arte, Design e Sociedade/Institute of Research in Art, Design and Society) at FBAUP – Faculdade de Belas Artes da Universidade do Porto/Faculty of Fine Arts, University of Oporto.
About The Artists
Sérgio Eliseu is a portuguese artist born in Coimbra, on the year of 1979. He as a BA in Art History from F.L.U.C. (University of Coimbra) and a Master Degree in Contemporary Artistic Creation (University of Aveiro). Currently he is studying towards an Art and Design PhD, at the FBAUP (University of Porto). Introduced to the world of art in 1994, he has numerous solo and group exhibitions both in Portugal as abroad. The launch in multimedia projects dedicated to the paradigm of interactive art occurred in 2007 and originated his current researches in I2ADS (Institute of Research in Art, Design and Society).
Artist's Website : www.eliseu.pt.to
Pedro Cardoso was born in 1982 and is a Communication and Image Designer living at Oporto, Portugal. He has a Graduate College Degree in Communication Design, a Master Degree in Image Design and is a PhD student in Art and Design at FBAUP (Faculty of Fine Arts, University of Oporto). Currently, he teaches design at the same institution and is one of the founding researchers of I2ADS (Institute of Research in Art, Design and Society), where he pursues studies in videogames and multimodal interactive phenomena. He has also been actively collaborating with Biopixel – Research & Development Studios in the production of interactive interfaces and videogames.
Artist's Website : www.pedrocardoso.pt.vu