Water Lily Invasion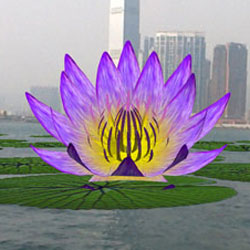 As global water levels and temperatures rise, plants and animals are mutating to adapt. Strange new creatures are arising at the interstices between plant and animal, questioning and transgressing the boundaries of what is considered to be reactive flora or active fauna.
In 2013, one such form was observed to follow the route of the Star Ferries between Hong Kong and Kowloon. It is hypothesized that it feeds off energy, not only that dissipated by the ferry boats, but also that of the human cargo and their electronic devices. Apparently sensitive to the mediated human gaze, a seemingly small, innocuous water lily can enlarge to engulf viewers who focus it in the display of their mobile app. Until now viewers have reported feeling no effects other than a temporary fibrillation. Scientists worry however that future mutations could cross boundaries between insentient plant and sentient, perhaps even carnivorous life forms.
About The Artist
Tamiko Thiel is a media artist developing the dramatic and poetic capabilities of various forms of virtual and augmented reality as a medium for exploring social and cultural issues. She shows internationally at venues such as the Fondazione Querini Stampalia in Venice, the Metropolitan Museum of Photography in Tokyo, the ZKM in Karlsruhe, the International Center for Photography in New York, the Institute of Contemporary Art in Boston and London, and at media art festivals such as Siggraph and ISEA. Her work has been supported by grants from institutions like WIRED Magazine, the Japan Foundation, the MIT Center for Advanced Visual Studies, Berlin Hauptstadtkulturfonds and the IBM Innovation Award.
Artist's Website: www.mission-base.com/tamiko
Other (Un)seen Sculptures By This Artist
Jasmine Rain (birdcage) and ARt Critic Face Matrix Reloaded
Sea of Tweets (with Mark Skwarek, John Craig Freeman & Naoko Tosa)