Washing Day (let them hang in the air)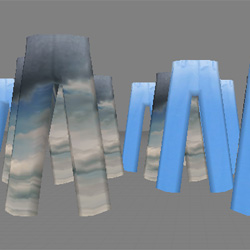 The title of this work is a reference to the site of the sculpture, Callan Park, which used to function as a mental asylum many years ago. Although the asylum has ceased to exist, the site's history is still strongly present in its current function as a campus for Sydney College of the Arts. The work's form refers to the notion of laundry as something that is normally expected
to be kept private but is often displayed in public. The pieces of clothing are empty as a reference to the absence of bodies that normally would be enclosed within the pieces of clothing.
Artists' Website : www.a9project.net