ARt Critic Face Matrix Reloaded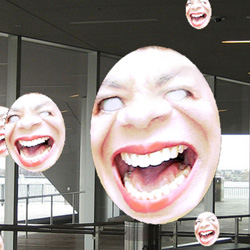 "You call this ARt!?!?"
Varying from skepticism to outrage, a matrix of faces hovers in the air.
"ARt Critic Face Matrix Reloaded" premiered on April 22, 2011, at the Institute of Contemporary Art in Boston as part of the Boston Cyberarts Festival. It is an animated version of the original "Art Critic Face Matrix" that was part of the pathbreaking "We AR in MoMA" guerilla AR intervention in MoMA New York in 2010, where it is now on permanent exhibit.
About The Artist
Tamiko Thiel is a media artist developing the dramatic and poetic capabilities of various forms of virtual and augmented reality as a medium for exploring social and cultural issues. She shows internationally at venues such as the Fondazione Querini Stampalia in Venice, the Metropolitan Museum of Photography in Tokyo, the ZKM in Karlsruhe, the International Center for Photography in New York, the Institute of Contemporary Art in Boston and London, and at media art festivals such as Siggraph and ISEA. Her work has been supported by grants from institutions like WIRED Magazine, the Japan Foundation, the MIT Center for Advanced Visual Studies, Berlin Hauptstadtkulturfonds and the IBM Innovation Award.
Artist's Website: www.mission-base.com/tamiko
Other (Un)seen Sculptures By This Artist
Sea of Tweets (with Mark Skwarek, John Craig Freeman & Naoko Tosa)