Stripped Icon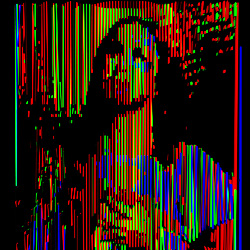 Believing is seeing, that what is not there yet but in the mind´s eye. Our everyday itineraries are absent-minded plans tying the present time with what´s to come, they are the work that past versions of oneself do for our future self. It´s closed eyed faith.
This AR sculpture is part of a series called "Stick to something for long enough" which comprises physical works (collages made of sticky tape) and digital works (3D animation and AR).
About The Artist
Oscar Raby is a multimedia designer and visual artist. He was born in Santiago de Chile where he studied Architecture, Multimedia Communications and Fine Arts. He began his career working as an advertising creative before founding one of Chile's most prominent artistic collectives O-inc. in 2001. In 2008 he moved to Australia where he continued developing his artistic practise around experience design and digital storytelling.
Artist's Website : www.roboticatlas.com